​If you're on the hunt for a job, you'll know just how important it is to create a compelling CV. This simple document is often the best way to get your foot in the door and attract the attention of a hiring manager. In two pages or less, you have to summarise your work history, your skills, experience and where you're hoping to go next.
A well-crafted CV is vital for securing your next opportunity, yet so many of us neglect to update our CVs or put any thought into how they might be interpreted. In this guide, we'll take a deep dive into the role of the CV and how you can craft yours to increase your chances of success.
What is a CV?
A CV, also known as a resume, is a document that summarises your professional experience and skills for potential employers. A CV is not just about you. It's about what you can do for the employer.
You want to make sure that you are highlighting your skills and achievements in a way that will get their attention. In light of this, you should make sure you adapt your CV to every job role you apply for so that the skills match those requested in the job description.
There are two types of CVs: the chronological CV and the functional CV. The chronological CV organises your work history by date while the functional CV organises it based on what type of work you were doing at each job or position.
Is a CV the same as a resume?
A CV is a more detailed version of a resume. It typically includes an overview of your education, work experience, and other achievements. A resume is less formal than a CV and usually contains only the most recent information about you.
A CV is also more commonly requested in the United Kingdom, while companies in the United States of America might refer to this document as a resume. A CV is typically no longer than two pages long.
Are CVs still relevant?
CVs are still relevant for many professions. They are a great way to showcase your work experience, education and skills. Most roles will accept applications in the form of a CV and cover letter, while some will ask you to transfer the information to an online application system.
However, there is a shift in the way people are applying for jobs. Some companies no longer require CVs as they believe that their own hiring process is better than a CV. This means that they might request something more creative such as a portfolio or a video resume.
Who needs a CV?
A CV is a document that showcases your experience, skills and qualifications. It is a one-page summary of who you are and what you can offer to potential employers.
It is important to have a CV because it will be the first impression for an employer. It will be the document that they assess when deciding whether or not to interview you, so it needs to be well written with all the relevant information on it.
Job hunters will find it easier to apply for roles if they prepare a CV ahead of time. Creating a CV template that can easily be adapted to individual roles will save time while still allowing you to create a bespoke CV for every role.
How often should you update your CV?
The answer to this question is not as simple as it may seem. It depends on the profession and the industry that you are in.
If you are a freelancer, then your CV should be updated every time you get a new client or have a new project. This is because freelancers have to get work from different clients and most of them don't want to hire someone who has been unemployed for too long.
If you are employed by a company, then your CV should be updated every time there is a change in your experience or skill set, for example, if you have attended a training course. This would help potential employers know what they can expect from you in the future.
If you leave it too long to update your CV, you might forget about key experience that could be relevant to another employer. So, while you might be happy in your current role, you should always keep your CV updated so that it's ready to send to potential employers if you decide to start looking for a job.
​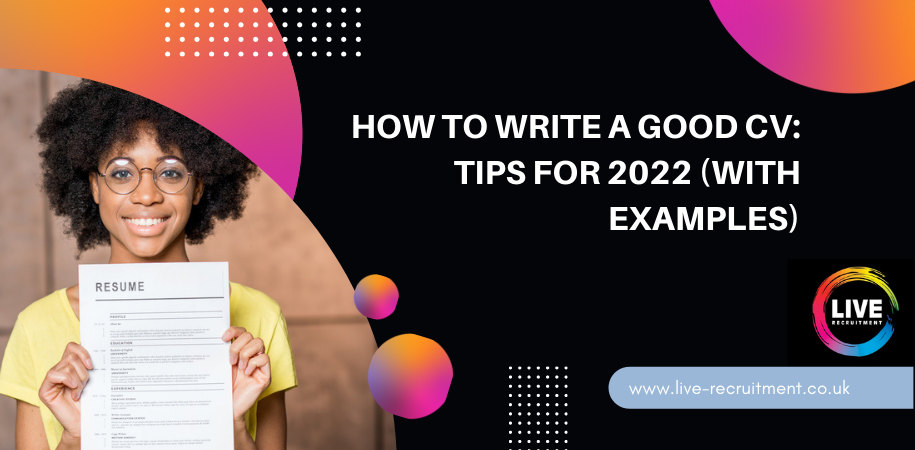 How to write a good CV
CVs are usually written in the third person and are typically one page in length. The first section of the CV should contain personal information such as:
name

address

phone number

email address
The second section should include information about education and work history. The third section should list any skills that you have acquired throughout your life, for example, speaking additional languages.
You might also include a short summary or personal statement at the start of the CV. This can easily be adapted to each role you apply for to help make your application stand out to the hiring manager. Examples of powerful personal statements are included below.
Personal statement for an events manager role
I am a creative and organised individual with a passion for events management. Building on my experience as an events assistant and events supervisor for Company XYZ, I am now seeking new opportunities with an organisation that can support my career development.
Personal statement for a conference producer role
I am a recent MMU graduate with a 2:1 in Event Management. I have experience managing staff, liaising with clients and organising large-scale events. I am an overachiever who likes to push myself and get things done.
Personal statement for a creative director role
My name is Sandra and I'm a marketing creative director with a decade of experience creating innovative, successful marketing campaigns. One of my passions is cultivating a dynamic, passionate team and making sure they continually strive for improvement and excellence.
Tips for writing a compelling CV
Now that we've covered the basics of what your CV should include, it's time to get into the finer details. Structuring your CV in the best possible way will help to bring attention to the aspects that you want employers to notice. Here are some top tips for writing a compelling CV.
Keep it short. A CV is a summary of your work, skills and experience. It's the thing that should tempt them to want to invite you to an interview and learn more. So stick to key information to avoid boring your audience.

Keep your CV updated. As your career progresses, you might find that the experience from the start of your career is less relevant and can be reduced to simply dates and facts. This will allow you to focus on the most recent and most relevant experience.

Present it in reverse chronological order. This means that your most relevant experience is first and then works backwards. This is the most common way to present your CV, so avoid potential confusion by following this norm. If you present it in chronological order, you run the risk of losing their attention straight away.

Use space wisely. You don't have to write in complete sentences, provided the meaning is not lost. When you're writing a CV, you need to think about condensing a lot of information into a small space. You only have two pages to tell an employer why they should interview you, so don't waste any space.

Don't neglect the design. Your CV should not only be full of interesting information, but it should also look great. If you take the time to spruce up your CV and make the design look flawless, make sure you save a copy as a PDF to apply for roles, as this will keep the formatting in place. But remember that recruiters will likely want a Word document version, so keep this on file, too.
Where to find CV examples
Looking at examples of other CVs is a great way to find inspiration for writing your own. Whether you are looking to spruce up an existing CV or you need to start from scratch, the following sites will offer examples of CVs to help you get started.
We recently shared our thoughts on how to structure your CV, including examples, so this would be a great place to start.
Zety allows you to browse example CVs and then create your own. They have a wide range of CV examples from lots of different industries.
Prospects also offer a range of CV examples that will help to give you that initial spark of inspiration. Remember that CVs from different sectors could be just as valuable to you as ones from your target sector.
MyPerfectCVis another website that offers CV examples you can browse for inspiration. They also have a range of designs, if you need some ideas on how to make your CV more visually compelling.